Machine
Alfa Romeo GTV 2000 -77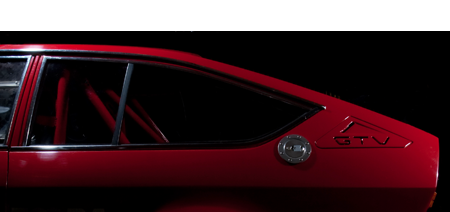 Quick Facts:

| | |
| --- | --- |
| Engine: | 2.0 Nord Turbo |
| Transmission: | 5-Speed Manual |
| Length: | 4260mm |
| Width: | 1664mm |
| Wheelbase: | 2400mm |
| Weight: | ca 920Kg |
The car was turned into a racecar around -94 and up until -07 only lightly refined  to fit my body and driving style better. Little things like a seat that fits me and a deep dish steering wheel, a foot rest has also found it's way in under my left foot.
The car is now transformed extensively for season -10. A change of class means that really nothing is left untouched. Engine, chassis, brakes, electrical system, fuelsystem and so on is replaced. A clean sheet tunig-wise. Good thing I'm also expanding my datalogging system.
The Engine build drives the fuel system change because the carburator tank didn't have a return line, it's also located on the left hand side on the GTV, not the best spot. The brakes which managed their task beautifully with the old engine needs to be reworked if you double the engine power, that goes without saying. While I'm at it I'm also changing the springs all around since the car has been a bit too loose to be comfortable to throw around. Three sets of springs have been bought and will be evaluated on the track.
To keep track of what's happening with the car on the track I have a datalog unit, a Race Technology DL1. Dual accelerometers, GPS and a bunch of analog input channelsfor a wide variety of measuring units to be able to analyze what's going on with the car and also what I'm doing.
All the updates to the car will have it's own page under "machine" in the menu. If anything is missing or if you have any requests on topics send me a mail or use the contact page to communicate with me.